How to Save on Stylish Kitchen Upgrades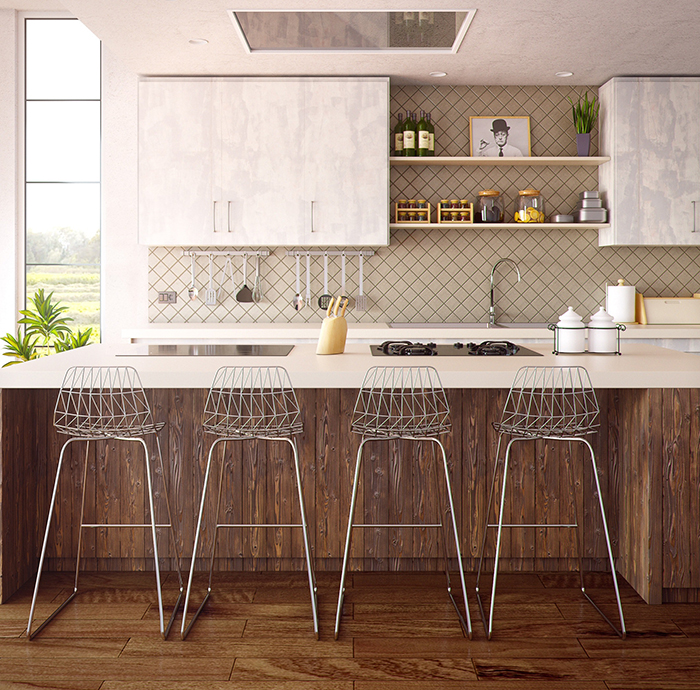 If you're in the process of renovating your kitchen, you're probably trying to figure out how to do it on a budget. Luckily, there are a lot of stylish upgrades you can make that will save you money without sacrificing quality or visual appeal. In this blog post, we'll talk about some of the most popular kitchen trends and give tips on achieving them without spending a fortune.
As experienced Milwaukee home inspectors, we at Towne & Country have seen a lot of kitchen styles come and go. We know what stands the test of time and makes homebuyers happy. So whether you're just starting to plan your renovation or are already in the midst of it, read on for some valuable advice!
Today's Look: Clean Lines, Fun Colors, Functional
One of the most popular trends we're seeing in kitchens right now is a focus on clean lines and minimalism. This look can be achieved by using simple, unadorned cabinetry and hardware and by choosing a limited color palette. You can also create the illusion of more space by doing away with bulky appliances and opting for sleek, built-in alternatives.
While the clean, minimalist look is very popular right now, that doesn't mean your kitchen has to be boring. You can still have fun with color and personality in other ways. For example, you could use a bright backsplash or add some fun accessories to your shelves. And don't forget that functionality is key in any kitchen, so make sure you have everything you need within easy reach.
Dark Wood Floors
One of the most popular kitchen trends right now is dark wood floors. If you love this look but don't want to spend a fortune on real wood floors, you can achieve a similar look with quality wood-look vinyl plank flooring. This option is not only more budget-friendly, but it's also easier to care for and less likely to be damaged by spills or dropped dishes.
Fun Tiled Backsplashes
Another popular trend is a fun, colorful backsplash. You can achieve this look with peel-and-stick materials that are much cheaper than traditional tile. Plus, they're easier to install and you won't have to worry about grout lines. Then, when you're ready for another change, you can switch them out with a new color and pattern!
Marble Countertops
If you're drooling over marble countertops, you're not alone! Marble is a classic material that adds instant sophistication to any kitchen. However, it can be quite expensive. If you're looking for a more budget-friendly option, consider Carrera marble or even Formica. Both of these options offer the same look as real marble without the hefty price tag. Formica will also require much less babying than real marble.
Statement Kitchen Islands
Another popular kitchen trend is a statement island. Large central islands are the stuff of Pinterest dreams, and many we see today have convenient features like a sink, cooktop, storage, and seating. If you're short on space or budget, you can DIY a statement island with stock cabinets as a base and custom-cut butcher block as a top. This cheaper, DIY route gives you options for adding additional counter space for seating, choosing your own knob and drawer pull style, and more.
Open Display Shelving
Open shelving gives your kitchen an airy feel and provides ample storage for all of your cookware and gadgets. Open shelves are an easy upgrade if you have space to put them, just be sure to install them using heavy brackets and/or threaded steel reinforcements attached to studs. Kitchen items are generally much heavier than other household items you would display on open shelving, so proper installation is key. An easy way to achieve an open shelving look without the hassle is to simply remove the doors on your upper cabinets — just make sure you like the look of your cabinet interiors before busting out the screwdriver!
Timelessness is Key
Kitchen styles come and go, but opting for a clean and minimal design with just one or two focal point colors will give you a better chance of designing a kitchen that never goes out of style. When working with color in your kitchen, incorporate it with elements that can be switched out when you're ready for a change, like a peel-and-stick backsplash or display elements on open shelving. Finally, by working within your budget and choosing elements you love, you'll never go wrong.
Towne & Country: Milwaukee's Favorite Home Inspectors
If you're looking for a Milwaukee home inspector, look no further than Towne & Country. We're the city's favorite home inspector, and we're here to help! We offer historic home inspections, seller inspections, foreclosure inspections, and more. Give us a call today.