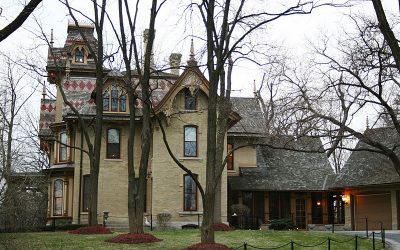 Milwaukee is a city known by many names. While "Brew City" or "The 414" may be fairly obvious, one moniker that tends to cause confusion among tourists and natives alike is "Cream City." The nickname derives from a native type of light cream-colored brick used to construct homes and other buildings in the 19th century.
At Towne & Country Building Inspection, we are passionate about helping Milwaukee homeowners understand and appreciate the uniqueness of their historic homes.
Read on to learn five fun facts about Cream City brick homes in Milwaukee:
Cream City brick helped put Milwaukee on the map
As early as 1846 (the year Milwaukee was incorporated), reports in local and national newspapers point to the definitive aesthetic that Milwaukee's Cream City bricks deliver. Lake Michigan provides Milwaukee with a red, dense clay soil that has a higher concentration of calcium and magnesium compared to other clay soils. When bricks made of this clay are baked in a kiln, the original red color fades into the distinctive yellow-cream color. Compared to traditional red brick, this unique color was an instant hit with home builders and buyers in the area, and soon became one of the most desired building materials in homes and other buildings. As news of this new style of brick spread, structures made of Cream City brick began popping up across the United States and even in Europe. Any home inspector in Milwaukee will be quick to point out the historical and structural significance of Cream City brick.
Cream City brick is prone to discoloration
Compared to other types of brick, Cream City bricks are significantly more porous. This means that pollutants such as smoke, dust, and gases in the air can cause discoloration. Historically, this led to an eventual decline in the use of Cream City bricks because the methods used to clean typical bricks, particularly sandblasting, were not effective on Cream City bricks and actually caused more destruction than restoration. However, since the 1970s, chemical washes have been created and used to clean Cream City bricks in a non-destructive manner. This has led to a resurgence in demand that, as a historic home inspector in Milwaukee will likely point out, may very well create enhanced value in a property.
Cream City bricks are known for their durability
Any building in the Milwaukee area has to have good bones (i.e. structural integrity) to stand up to southeastern Wisconsin's intense winters. As the ground freezes and thaws, the soil expands and contracts in a manner that can cause significant distress to a building's walls and foundation. If you want evidence of Cream City bricks' longevity, consider the dates in which some local buildings were erected: The Italianate house (800 N Marshall St; built 1872); All Saints Episcopal Cathedral (828 E. Juneau Ave; built 1868); various buildings in the Schlitz brewery complex (1880s); and the Women's Club of Wisconsin (813 E Kilbourn Ave; built 1886).
Cream City bricks are eco-friendly
Cream City bricks are made from lacustrine clay, meaning clay that has been formed by lake deposits. Milwaukee, and in particular the Menominee River Valley's location near Lake Michigan, provide vast amounts of natural clay deposits for use in manufacturing Cream City brick. The process of extracting this lacustrine clay soil is much less harmful to the environment compared to something like vinyl siding, which is composed primarily of polyvinyl chloride (PVC), a man-made material. The manufacturing process for PVC and vinyl siding is known to produce greenhouse gases such as nitrogen oxide and carcinogens such as dioxin.
Cream City brick may add value to your home
Cream City bricks were once one of the most in-demand building materials not only in the Milwaukee area but across the nation and even abroad. Although they eventually fell out of favor because their porous nature led to unsightly discoloration from pollutants, modern cleaning methods have allowed those in the restoration business to take a renewed interest in Cream City brick buildings. Owning a home built with Cream City bricks allows you to own a piece of Milwaukee's history, and for those that are intent on purchasing a home within the city and committed to maintaining its historical integrity, the fact that a building is made with Cream City brick may very well be a factor that increases the value of the property.
At Towne & Country Building Inspection, we provide Milwaukee's best historic home and building inspection services. Looking for a home inspector in Milwaukee? Give T&C a call today.
https://tandcinspection.com/wp-content/uploads/2020/08/5-facts-about-cream-city-brick-homes-in-milwaukee-400x250-1.jpg
250
400
admin
https://tandcinspection.com/wp-content/uploads/2020/08/tandc-logo.png
admin
2020-08-11 13:01:29
2020-08-25 06:52:17
5 Facts about Cream City Brick Homes in Milwaukee